About
From 1920`s to 1950`s the Mille Miglia which took place in Italy held an open road endurance race travelling 1600 kilometers.
From here, each European country, each with dignity devoted their time to create a state-of-the-art technology making automobile to make a faster car.
It has contribute to multifaceted improvement of modern industrial production technology and its benefits.
The automobile culture is a brilliant modern history, beginning from people in Europe.
At this modern days, automobile culture are carefully inherited and cherished to all generation.
After Japan has undergone a high growth period,
many Japanese ancestors were able to be part of automobile culture in Europe and many world's valuable classic cars were imported.
This valuable classic cars were well kept and cherished by the owners, mechanics and body shop specialists.
For Japan, the history of car culture is short, though we have always cherished our tradition, value and skills.
The cars produced more than 80 years ago are maintained in the same condition as the ordinary cars even in the long distance rally exceeding more than 1000 kilometers.
Condition and environment has been made for good maintenance to have classic cars run as equally like general cars.
Though in modern days (to repair) is getting much more difficult taking over technical skills.
Like historical buildings, there is no doubt that classic cars are also a historic cultural heritage as well.
Passing on to the children of next generation, let them feel and experience the sound of classic car engine.
By being able to experience, we hope they will be interested in admiring classic cars and respect the "technician" who supported Japan.
We would like to build up and continue this classic car culture with local government,
Rotary Club and many friends who loves classic cars.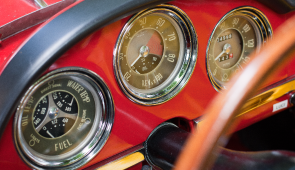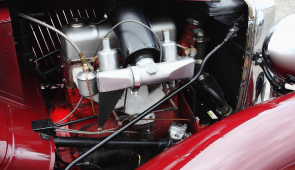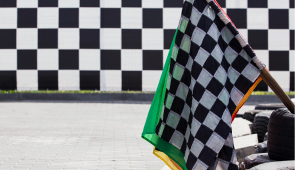 Route
Hakone which is the rally venue is located in the southwestern part of Kanagawa Prefecture near Shizuoka Prefecture.
Since the ancient time, Hakone was a key transportation for people travelling up and down along the steep mountains,
passing the lodging town where people healed themselves with various hot springs.
Overlooking Mt.Fuji on a clear day from Lake Ashinoko (created in the crater of Hakone Volcano),
climbing up to Owakudani (where volcanic fumes still bear a trace) and passing Sengokuhara (a grassy hill passage).
Many of these beautiful mountainous land and nature had greeted many people each and every season.
Early summer rain of June brings a great gift for plants lively grow in nature which makes Hakone more ravish.
So lets take a pleasure to experience this unique route to Hakone together with your classic car.

Day1
The Prince Hakone Lake Ashinoko
Doll House Museum Hakone
Hakone Sekisho
Hakone-Yumoto
Hatajuku
Moto-Hakone
The Prince Hakone Lake Ashinoko
The Hakone Open-Air Museum
09:30

START


09:50 ~ 10:20
09:55 ~ 11:00
10:50 ~ 11:30
11:05 ~ 11:35
11:15 ~ 11:45
11:20 ~ 13:15
13:30  

GOAL
Day2
Fujiya Hotel in Hakone
Kanto Gakuin University
Odawara Castle
Manazuru Fishing Port
Endo Shell Museum
Yugawara Town Tourism
Mori-no-fureai Hall
Hakone Highland Hotel
Lalique Museum Hakone
07:00

START


07:30 ~ 08:45
08:15 ~ 09:00
08:35 ~ 09:20
08:45 ~ 10:30
10:25 ~ 10:55
10:50 ~ 11:30
11:35 ~ 13:15
12:50  

GOAL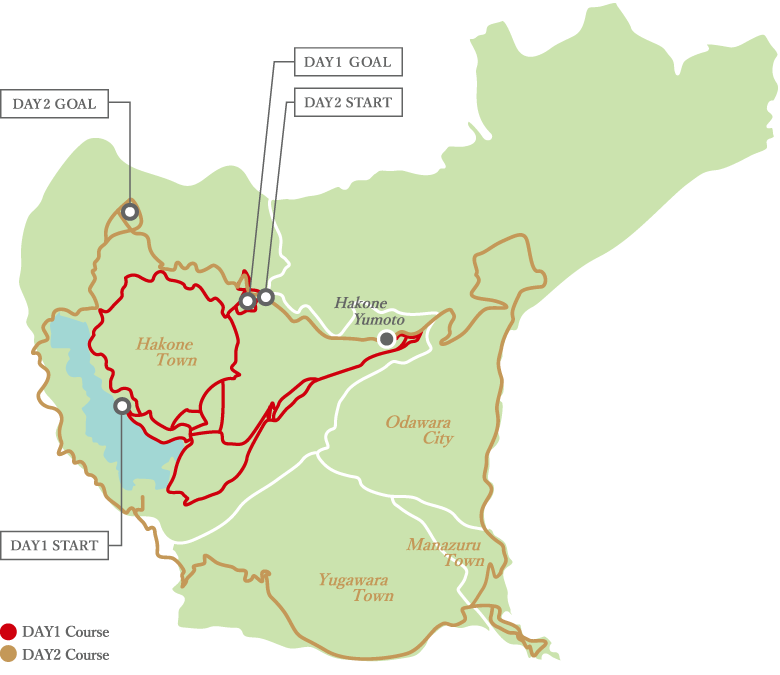 Outline
Event Name :
Classic Japan Rally 2017 in HAKONE
Event Location :
Hakone Town / Odawara City / Manazuru Town / Yugawara Town
Event Schedule :
Total 2 days - Rally on Saturday, June 03 / Sunday, June 04, 2017
*On Friday, June 02, 2017 at The Prince Hakone Lake Ashinoko,
 we have set a PC Competition Practice Course with measurement line.
*For the first time participants, we have prepared the Beginner's Briefing.
Accommodation :
2 nights accommodation at Fujiya Hotel in Miyanoshita
Check-in Saturday, June 03 / Check-out Monday, June 05, 2017
*Guests wishing to stay from previous night, we are offering The Prince Hotel Hakone Ashinoko.
Award Ceremony :
Sunday, June 04, 2017 from 7:00pm at Fujiya Hotel Cascade Room
・Dress Code :
 Ladies : Semi-formal or Kimono
 Gentlemen : Black Tie Formal
Participants :
53 cars
Eligible Vehicles :
・ Vehicle entries must be sports type vehicle (originally) manufactured in Europe from year 1919 to 1967.
・ Vehicles must be approved by the Event Organizer.
・ Replica vehicles are not eligible to participate.
・ Vehicles must have a valid number plate with valid car registration and valid period of inspection certificate
  until the conclusion of the event.
・ Vehicles manufactured in 1939 or earlier will be prioritized to participate.
・ Vehicles participated in Mille Miglia will be prioritized for this event.
Competitions :
51 sections
Rally Rule :
・ Stamp sheet - Follow according to the route map for all check points to receive stamps.
・ PC Competition - Standard time running measured in 1/100 of a second.
Entry Fee :
250,000 yen per vehicle for a crew of two, tax included.
A complete package for a crew of two including:

・ Accommodation for 2 nights at Fujiya Hotel.
・ Check-in Saturday, June 3rd / Check-out Monday, June 5th including daily breakfast.
・ 2 lunches (June 3rd and 4th)
・ 2 dinners (June 3rd and 4th)
・ Award Ceremony on June 4th
・ Commemorative gifts, etc.

Hosted By :
Impression Co., Ltd.
Special Cooperation :

Hakone Rotary Club

Sponsors :
Porsche Japan KK / Nihon Michelin Tire Co.,Ltd. / MOTUL of Japan K.K. /
Volvo Car Japan Limited / E.OCT Co.,Ltd. / Sougo Co.,Ltd. / Link, INC. / HIRANO PLANNING /
SATOH GROUP / MyBrans / TOY, DOLL & CAR MUSEUM / NINKI INC. / Hayashi Farm / Ozawa Clinic /
DAYS Co.,LTD / Camino Co.,Ltd. / Autoglym / Alfa Romeo(FCA Japan Ltd.)
Under the Auspices :
Kanagawa Prefecture / Hakone Town / Hakone Tourist Association / Odawara City / Manazuru Town / Yugawara Town
Provision Cooperation :
NASC
Facility Cooperation :
FUJIYA HOTEL / The Prince Hakone Lake Ashinoko / THE HAKONE OPEN-AIR MUSEUM /
LALIQUE MUSEUM HAKONE/Kanto Gakuin University / HAKONE HIGHLAND HOTEL /
DOLL HOUSE MUSEUM HAKONE
Poster :
Tomohiro Todoroki
Official Notification & Rule :
PDF download(626KB)
Additional Accommodation for one night:

 *Guests who prefers to stay from the previous night,
 we have blocked The Prince Hotel Hakone Ashinoko for accommodation.

 *Room rates:
  ・ For one room / one person 24,000 yen per night, tax included
  ・ For one room / two persons 30,000 yen per night, tax included

 *Please make this room payment together with the Entry Form.

 *Above rates are for room and tax only. All other incidental charges to be paid upon check-out.

 *If you wish to make room reservation, you may reserve your room from the Entry Form.
 We accept room reservation until Friday, May 19th, 2017.

Restaurant reservations and Inquiries
 Please call 0460-83-7170 during 11:00am – 18:00pm
 Contact person: Mr. Hioki

Choice of Restaurants

 ① Restaurant Le Trianon (French Cuisine)
 ② Nadaman Garden (Japanese Cuisine)
 ③ Lakeside Grill (Continental Restaurant)


Set Course - 7,700 yen per person, tax included
Kaiseki Course - 7,700 yen per person, tax included
Set Menu (including salad bar) - 5,500 yen per person, tax included




Resevation time

 *Please note that due to a limited seatings, restaurants may not be able to take your requested time.
How to Enter
Thank you indeed for many entry to Classic Japan Rally.
As of March 20, 2017 we have closed the entry application.
Please Contact Us whenever you have questions.
Entry List
No.
Driver / Co-Driver
Car-Model
Year
Photo
01
Masahiro Yokota(D)
ASTON MARTIN INTERNATIONAL
1930
Etsuko Oki
02
Kiyoshi Yabe(D)
MG PA
1934
Takeshi Hayashi
03
Masaaki Sakai(D)
LANCIA LAMBDA 221 CASARO
1928
Atsuko Kurihara
05
Hidehito Suzuki(D)
BUGATTI T37
1928
×× ××
06
Kimio Sato(D)
FIAT BALILLA 508S
1933
Kimiko Sato
07
Yoshiaki Ninomiya(D)
BENTLEY 3.5L
1935
Reiko Ninomiya
08
Tamotsu Saito(D)
FIAT 508S BALILLA SPORT
1936
Hiromi Saito
09
Hirokazu Ishiwata(D)
FIAT 6C
1939
Masato Sakuma
10
Go Yamazaki(D)
FIAT FARINA MM
1947
Yasushi Kuroda
11
Hajime Atari(D)
BANDINI 1100S
1947
Motohiro Atari
12
Norihiko Terai(D)
FIAT STANGUELLINI 1100SPORT
1947
Akira Miyauchi
13
Taiki Saegusa(D)
ERMINI
1948
Asei Saegusa
14
Minoru Miyashita(D)
PORSCHE 356B ROADSTER
1960
Kanako Yaguchi
15
Yoshio Maeda(D)
JAGUAR XK120 OTS
1951
Noriko Maeda
16
Hiroyuki Takigawa(D)
TRIUMPH TR2
1954
Ryo Takigawa
17
Yoshimasa Hirano(D)
MG TD
1952
Akihiko Suzuki
18
×× ××(D)
HONDA S600
1964
×× ××
19
Yasushi Takei(D)
FIAT FRUA COUPE
1953
Masako Takei
20
Akitaka Yamaguchi(D)
FIAT 1100TV
1954
Toshiko Tsuchiya
21
Nobuo Komiya(D)
TRIUMPH TR2
1954
Yoshiko Komiya
22
Takashi Arakawa(D)
TRIUMPH TR2
1954
Takashi Samukawa
23
Satoshi Koshikawa(D)
JAGUAR XK120
1954
Yayoi Koshikawa
24
Junichi Inagawa(D)
MORGAN 4/4
1972
Mitsuko Tochika
25
Kunihiko Sasaki(D)
PORSCHE 356A SPEEDSTER
1955
Masako Sasaki
26
Hiroshi Hisatomi(D)
JAGUAR XK140 OTS
1955
Kuniko Hisatomi
27
Tatsuyuki Aoki(D)
AUSTIN HEALEY 100 BNⅠ
1955
Syoko Aoki
28
Hideyuki Fukuhara(D)
TRIUMPH TR2
1955
Atsushi Hasegawa
29
Kozo Araki(D)
MG MGA
1956
Shigenori Araki
30
Kazunari Orihara(D)
ALFA ROMEO GIULIETTA SPIDER
1956
Noriko Orihara
31
Yukio Hara(D)
AUSTIN HEALEY 100
1956
Ayako Hara
32
Kiyoshi Ozawa(D)
TRIUMPH TR3
1956
Toru Kamei
33
Hisato Nonaka(D)
ALFA ROMEO GIULIETTA SPRINT
1956
Wataru Hirata
34
Ken Okuyama(D)
FIAT ABARTH 750GT
1957
Daisuke Saito
35
Yukihiro Hasegawa(D)
AUSTIN HEALEY 100/6
1957
Takayoshi Hayami
36
Mitsugi Sekine(D)
MG MGA
1957
Chie Sekine
37
Naohito Muramatsu(D)
PORSCHE 356A
1958
Takumi Sato
38
Koichiro Fukasawa(D)
ALFA ROMEO GIULIETTA SPIDER
1958
Romana GAJDA
39
Masuo Sawada(D)
PORSCHE 356A
1959
Ryoko Sawada
40
Nariaki Hatakeyama(D)
LANHAM GTO
1959
Saori Hatakeyama
41
Eiji Shimada(D)
ALFA ROMEO GIULIETTA SS
1960
Kuniaki Shimizu
43
Ryuichiro Sato(D)
PORSCHE 356B ROADSTER
1960
Miho Takashima
44
Shingo Kojima(D)
JAGUAR E TYPE ROADSTER
1962
Toshihiro Yatsu
45
Edward Suzuki(D)
DATSUN FAIRLADY
1963
Yuriko Suzuki
46
Tomio Ozaki(D)
PORSCHE 356C
1964
Kazuko Ozaki
47
Masayuki Kurashima(D)
PORSCHE 356C 1600K COUPE
1964
Mihoko Kurashima
48
Mari Matsushita(D)
MG MGB GT MK1
1965
Kaneaki Matsushita
49
Yujin Yusa(D)
LOTUS ELAN S3 D.H.C.
1967
Naoko Yusa
50
Tatsuya Kushima(D)
ALFA ROMEO GIULIA 1600GTV
1967
Nobuko Kushima
51
Manabu Oshima(D)
VOLVO P1800S
1968
Ryota Yamada
52
Shigeru Hikino(D)
COSMO SPORT
1969
Harue Tabata
53
Yukinobu Sato(D)
NISSAN KPGC10 GTR
1972
Akira Okubo
54
Takehiko Ando(D)
ELVA COURIER MK.2
1959
Kayo Ando
55
Kazuhiro Nagura(D)
ALFA ROMEO GIULIETTA SPIDER 750
1958
Shinichi Takeyama