About
From 1920's to 1950's the Mille Miglia which took place in Italy held an open road endurance race travelling 1600 kilometers.
From here, each European country, each with dignity devoted their time to create a state-of-the-art technology making automobile to make a faster car.
It has contribute to multifaceted improvement of modern industrial production technology and its benefits.
The automobile culture is a brilliant modern history, beginning from people in Europe.
At this modern days, automobile culture are carefully inherited and cherished to all generation.
After Japan has undergone a high growth period,
many Japanese ancestors were able to be part of automobile culture in Europe and many world's valuable classic cars were imported.
This valuable classic cars were well kept and cherished by the owners, mechanics and body shop specialists.
For Japan, the history of car culture is short, though we have always cherished our tradition, value and skills.
The cars produced more than 80 years ago are maintained in the same condition as the ordinary cars even in the long distance rally exceeding more than 1000 kilometers.
Condition and environment has been made for good maintenance to have classic cars run as equally like general cars.
Though in modern days (to repair) is getting much more difficult taking over technical skills.
Like historical buildings, there is no doubt that classic cars are also a historic cultural heritage as well.
Passing on to the children of next generation, let them feel and experience the sound of classic car engine.
By being able to experience, we hope they will be interested in admiring classic cars and respect the "technician" who supported Japan.
We would like to build up and continue this classic car culture with local government,
Rotary Club and many friends who loves classic cars.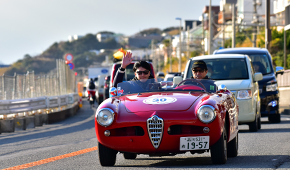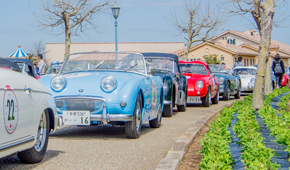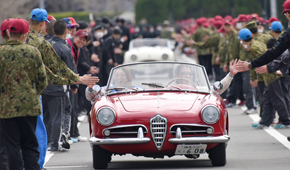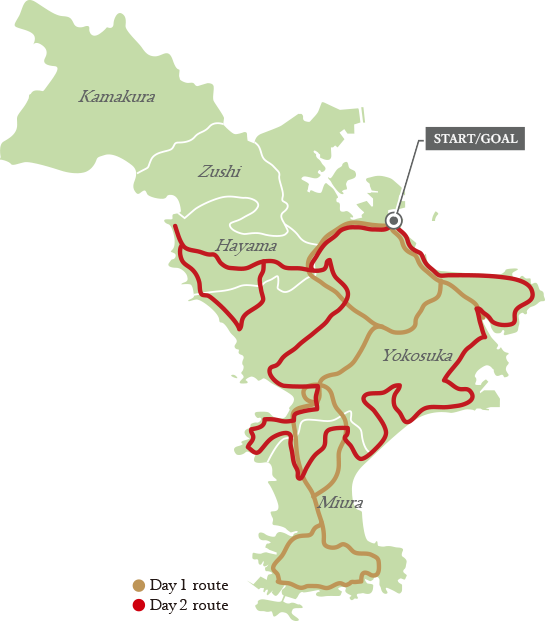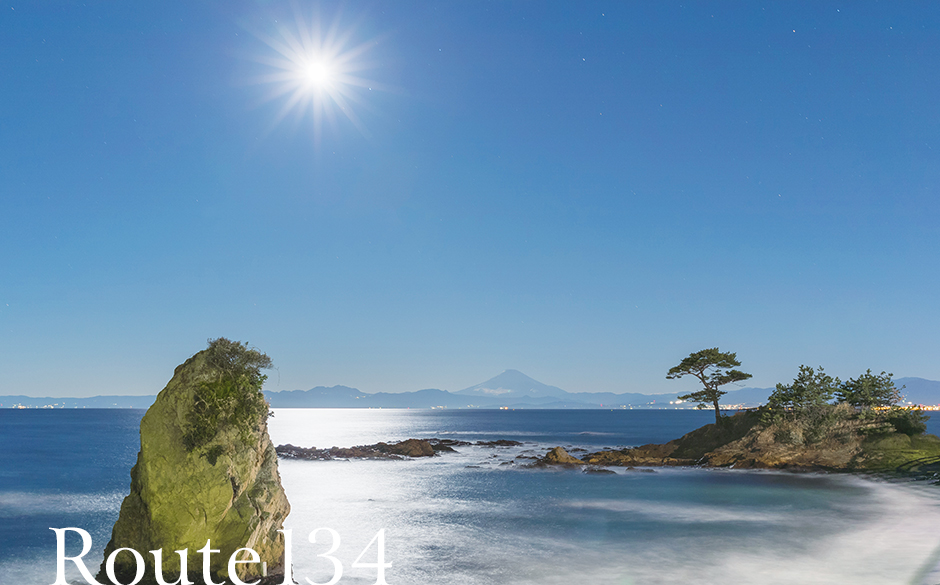 Route 134 starts in Yokosuka, a road that connects to Miura District of Hayama, Zushi, Kamakura and Oiso.
It is one of the National Highways in Kanagawa Prefecture where you can feel the sea breeze along the scenic route.
Yokosuka is an International port city where Japanese and American culture blends together.
Viewing rich nature such as Koajiro Forest, Oogusu Mountain (known as hiking course) and Tateishi Coast.
Jogashima Island, part of Miura Peninsula is well known for its scenic scenery where landscape that condensed
and Miura is one of the leading tuna landing ports in Japan where you can enjoy fresh seafood.
Hayama facing Sagami Bay, overlooking Enoshima and Mt. Fuji, known and chosen as one of the hundred shore.
The magnificent coastline and mountains lush with greenery entertains our eyes season by season.
Route 134 where scent of summer remains in the month of September.
So why not drive with your Classic Car while feeling the fresh wind of early Autumn.
Start

Mikasa Park ~ Uraga ~ Misaki ~ Hayama ~

Goal

Mikasa Park

Please wait a moment till the route will be release

Outline
Event Name :
Classic Japan Rally 2019 R134
Event Location :
Yokosuka City / Miura City / Hayama Town and surrounding areas
Event Schedule :
Total 2 days - Saturday, September 28th ~ Sunday, September 29th, 2019
        (*Saturday, September 28th is the Practice Run)
* Saturday, September 28th … "Practice Run"
  9:00am Start at Mikasa park
   ** Conduct the competition method, manner class and how to read road book class.
   ** Running according to the road book and performing PC competition practice in the practice venue.
   ** For the first time participants, we have prepared the Beginner's Briefing.
  5:00pm Vehicle display light-up at Mikasa Park
* Sunday, September 29th … "Rally"
  9:00am Start Ceremony at Mikasa park
  2:30pm Goal Ceremony at Mikasa Park
Accommodation :
Saturday, September 28th at KANNONZAKI KEIKYU HOTEL
Award Ceremony :
Sunday, September 29th from 4:30pm at MIKASA Historic Memorial Warship
・Dress Code : None
Participants :
60 cars (to be planned)
Eligible Vehicles :
・ Vehicle entries must be sports type vehicle (originally) manufactured
  in Europe or America from year 1919 to 1973.
・ Vehicles must be approved by the Event Organizer.
・ Replica vehicles are not eligible to participate.
・ Vehicles must have a valid number plate with valid car registration and valid period of inspection
  certificate until the conclusion of the event.
・ Vehicles manufactured in 1945 or earlier will be prioritized to participate.
・ Vehicles participated in Mille Miglia will be prioritized for this event.
Rally Rule :
・ Stamp Rally - Follow according to the route map for all check points to receive stamps.
・ PC Competition - Standard time running measured in 1/100 of a second.
Entry Fee :
Saturday, September 28th … "Practice Run"
■ 40,000 yen per vehicle for a crew of two, tax included.
This plan for a crew of two includes :

*Lunch (Sept. 28)
*Official Sticker
*Credential Pass
*Gifts

 ** This PC competition practice will not reflect in ranking.

Saturday, September 28th … "Accommodation"
■ One room / Crew of 2 54,000 yen (tax included)
■ One room / Crew of 1 32,000 yen (tax included)
This plan for a crew of two includes :

*One night accommodation at KANNONZAKI KEIKYU HOTEL
*Saturday, Sept. 28 - Dinner (Welcome party)
*Sunday, Sept. 29 - Breakfast


Sunday, September 29th … "Rally"
■ 70,000 yen per vehicle for a crew of two, tax included.
This plan for a crew of two includes :

*Lunch (Sept. 29)
*Official Sticker
*Credential Pass
*Followed by Award Ceremony with commemorative gifts, non alcohol drinks & etc.

Hosted By :
Impression Co., Ltd.
How to Enter
1

For Driver and Co-driver (if any) please fill out the entry form.
For Support Car please fill out the Support car entry form.
2
Before you apply, please have all the necessary documents that are required for the completion of your application.

all the necessary documents

1
Copy of valid driver license (main driver)
2
Copy of valid vehicle inspection certificate
3
Copy of valid vehicle liability insurance
4
Copy of optional insurance
5
Photo of your vehicle
(Printed Photo, CD-R or Photo data)

*All of the above must be valid until the conclusion of the event.
3
A confirmation letter will be sent to those who have passed the Entry Form.
As described in the enclosed document,
please make participation fee payment to the designated account.

Deadline for Entry Form
Wednesday, July 31st, 2019

Full payment must be made by
Friday, August 9th, 2019



* For Japanese Entry Form "Click" below :
If you are unable to enter from this website,
please click here to download Entry Documents and fill out the application.
* For English Entry Form "Click" below :