About
From 1920's to 1950's the Mille Miglia which took place in Italy held an open road endurance race travelling 1600 kilometers.
From here, each European country, each with dignity devoted their time to create a state-of-the-art technology making automobile to make a faster car.
It has contribute to multifaceted improvement of modern industrial production technology and its benefits.
The automobile culture is a brilliant modern history, beginning from people in Europe.
At this modern days, automobile culture are carefully inherited and cherished to all generation.
After Japan has undergone a high growth period,
many Japanese ancestors were able to be part of automobile culture in Europe and many world's valuable classic cars were imported.
This valuable classic cars were well kept and cherished by the owners, mechanics and body shop specialists.
For Japan, the history of car culture is short, though we have always cherished our tradition, value and skills.
The cars produced more than 80 years ago are maintained in the same condition as the ordinary cars even in the long distance rally exceeding more than 1000 kilometers.
Condition and environment has been made for good maintenance to have classic cars run as equally like general cars.
Though in modern days (to repair) is getting much more difficult taking over technical skills.
Like historical buildings, there is no doubt that classic cars are also a historic cultural heritage as well.
Passing on to the children of next generation, let them feel and experience the sound of classic car engine.
By being able to experience, we hope they will be interested in admiring classic cars and respect the "technician" who supported Japan.
We would like to build up and continue this classic car culture with local government,
Rotary Club and many friends who loves classic cars.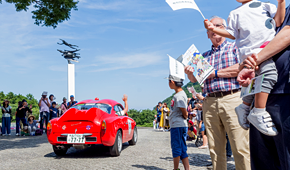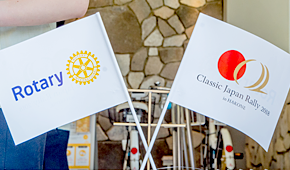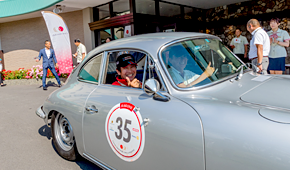 Route
Yokohama Motomachi is located in Naka-ku, Yokohama City, Kanagawa Prefecture
where prefectural government and administrative offices are centralized.
"Yokohama Motomachi Shopping Street" is an attractive street lined in a historical and traditional cobblestone.
It represents as one of the trademark in Yokohama.
In the month of May 2019, five shopping districts where Yokohama history conveys will renew towards
the 200th anniversary of port opening along with port opening memorial event "Yokohama Central Town Festival Y160" which will be held.
In addition, classic cars will gather at the event by adding many colors to Yokohama Motomachi.
Developed as a castle town of Mr.Hojo during Sengoku period.
"Odawara" has a long history and culture flourished town leading to Fuji, Hakone and Izu.
"Manazuru", named as a resembles of crane because of the shape on the map was similar to crane.
It is also a production center origin of high quality Komatsu stone from the ancient time.
"Yugawara", a hot spring spot since the Manyo period has become familiar to many people,
blessed with magnificent natural scenery, rich mountain and sea.
"Miyagase Dam" to river bed of Nakatsu river is a true classified first class water system.
Miyagase dam located in the Nakatsu river in the Sagami river system, this Miyagase lake was certified as "100 Dam Lake".
Having this lake and its surroundings is a popular recreation area where picnics and such can be done.
In the month of May, Yokohama and Nishi-Kanagawa areas are colored with fresh green that filled with light and increased in daily intensity.
So why not drive along with your classic car full of refreshing wind breeze in the beginning of early summer.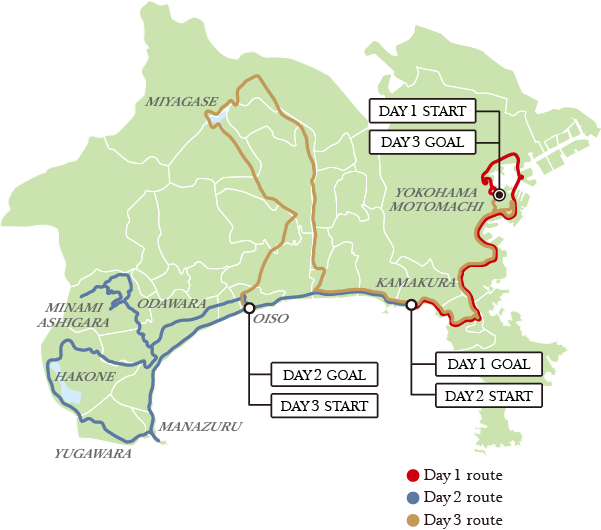 Day1
YOKOHAMA MOTOMACHI
Shopping Street
Kamakura Prince Hotel

17:00

START



18:30  

GOAL
Day2
Kamakura Prince Hotel
Manazuru Fishing Port
Cape Manazuru
Yugawara Town Tourism
Sengokuhara Purification Center*
The Hakone Open-Air Museum
Kanto Gakuin University
Odawara Campus*
Daiyuzan SAIJOJI
Jizo-do
Oiso Prince Hotel
07:00

START


08:00 ~ 08:50
08:10 ~ 09:00
09:30 ~ 10:00
10:05 ~ 11:00
10:30 ~ 11:25
11:20 ~ 12:40

12:20 ~ 13:30
13:45 ~ 14:20
15:30  

GOAL
Day3
Oiso Prince Hotel
Flowerland Isehara Honten
Aikawa Park North Parking*
Miyagase Dam
Riviera Zushi Marina
YOKOHAMA MOTOMACHI
Shopping Street

07:30

START


08:15 ~ 09:00
08:50 ~ 09:50
09:00 ~ 09:50
11:15 ~ 13:00
14:30  GOAL


Outline
Event Name :
Classic Japan Rally 2019 YOKOHAMA Y160
Event Location :
Yokohama City / Kamakura City / Odawara City / Manazuru Town / Yugawara Town / Hakone Town /
Minamiashigara City / Oiso Town / Kiyokawa Village / Aikawa Town and surrounding areas
Event Schedule :
Total 3 days - Rally on Friday, May 17th ~ Sunday, May 19th, 2019
*Exhibition Event at Yokohama Motomachi Shopping Street on Friday, May 17th
from 3:30pm to 5:00pm.
*Start at Yokohama Motomachi Shopping Street on Friday, May 17th at 5:00pm.
*Exhibition Event at Yokohama Motomachi Shopping Street on Sunday, May 19th
from 2:30pm to 4:00pm.
*Goal Ceremony at Yokohama Motomachi Shopping Street on Sunday, May 19th at 4:00pm.
*Friday, May 17th we are planning to set a PC Competition Practice Course with measurement line.
*For the first time participants, we have prepared the Beginner's Briefing.
Accommodation :
1st night – Friday, May 17th at Kamakura Prince Hotel
2nd night – Saturday, May 18th at Oiso Prince Hotel
*Guests wishing to stay from following night, we are offering Hotel New Grand.
Award Ceremony :
Sunday, May 19th, 2019 from 6:00pm at Hotel New Grand "Rainbow Ballroom"
・Dress Code :
 Ladies : Nice & casual
 Gentlemen : Casual (Jacket require)
Participants :
60 cars
Eligible Vehicles :
・ Vehicle entries must be sports type vehicle (originally) manufactured
  in Europe or America from year 1919 to 1973.
・ Vehicles must be approved by the Event Organizer.
・ Replica vehicles are not eligible to participate.
・ Vehicles must have a valid number plate with valid car registration and valid period of inspection
  certificate until the conclusion of the event.
・ Vehicles manufactured in 1945 or earlier will be prioritized to participate.
・ Vehicles participated in Mille Miglia will be prioritized for this event.
Competitions :
45 sections
Rally Rule :
・ Stamp Rally - Follow according to the route map for all check points to receive stamps.
・ PC Competition - Standard time running measured in 1/100 of a second.
Entry Fee :
250,000 yen per vehicle for a crew of two, tax included.
A complete package for a crew of two :

*1st night accommodation at Kamakura Prince Hotel
*2nd night accommodation at Oiso Prince Hotel
*May 17 - dinner
*May 18 - breakfast, lunch & dinner
*May 19 - breakfast, lunch & dinner followed by Award Ceremony with commemorative gifts, etc.

Hosted By :
Impression Co., Ltd.
Sponsors :
Porsche Japan KK / Nihon Michelin Tire Co.,Ltd. / MOTUL of Japan K.K. / FUKUZO.Inc / Kitamura Co., Ltd. /
RK Enterprise Co., Ltd. / STAR JEWELRY CO.,LTD. / TREMEZZO CO,.LTD. / Premium Car Care Japan K.K. /
SATOH GROUP / Team Nino / NINKI INC. / Hayashi Farm / TOY, DOLL & CAR MUSEUM / Ozawa Clinic /
Sougo Co.,Ltd. / Shonan Historic Car Club / Safety Life・GO&FUN NAGOYA / Link, INC. /
win's moment Co.,Ltd. / PRINCE HOTELS, INC. / NUMATA Co.,Ltd.
Under the Auspices :
Kanagawa Prefecture / Hakone Town / Manazuru Town / Yugawara Town / Aikawa Town
Jointly Hosted :
Yokohama Central Town Festival Executive Committee
Facility Cooperation :
The Yokohama Motomachi Shopping Street Association / The Hakone Open-Air Museum /
Around Miyagase Dam Promotion Foundation / DAIYUZAN SAIJOJI / Riviera Zushi Marina /
Kamakura Prince Hotel / Oiso Prince Hotel / HOTEL NEW GRAND / FUJIKI GROUP /
TRUE SPIRIT TOBACCO COMPANY
Media Cooperation :
Photographers :
Kenji Yamaguchi / Takumi Sakusabe
Provision Cooperation :
NASC / Takaharu Ito Seminar of Wako University
Poster :
Tomohiro Todoroki
Additional
Post-Accommodation
for one night :
Guests who wish to stay for post-night accommodation, we have blocked Hotel New Grand.

 *Room rates:
  ・ For one room / one person  20,000 yen per night, tax included
  ・ For one room / two persons 24,000 yen per night, tax included

 *Please make this room payment together with the Entry fee.
How to Enter
Thank you indeed for many entry to Classic Japan Rally.
As of March 29th, 2019 we have closed the entry application.
Please Contact Us whenever you have questions.
Entry List
No.
Driver / Co-Driver
Car-Model
Year
Photo
01
Takeshi Hayashi(D)
BENTLEY SPEED 3LITRE
1924
Takanori Yamazaki
02
Yoshimasa Hirano(D)
BENTLEY STANDARD 3LITRE
1926
Kazunari Kimiki
03
Yoshiaki Ninomiya(D)
BUGATTI T40
1928
Reiko Ninomiya
05
Hidehito Suzuki(D)
BUGATTI T37
1928
Hakuo Kato
07
Shingo Kojima(D)
SALMSON
1929
Akihiko Suzuki
08
Shinjiro Fukuda(D)
FORD MODEL A
1929
Yuka Fukuda
09
Manabu Yamazaki(D)
MG C-TYPE MONTLHERY
1932
Masayoshi Yamazaki
10
Junichi Inagawa(D)
MG J2
1933
Tamako Ota
12
Kiyoshi Yabe(D)
MG PA
1934
Chiaki Yabe
13
Ryuichiro Sato(D)
RILEY 12/4 SPORTS SPECIAL
1934
Miho Takashima
14
Nobuo Komiya(D)
MG N-TYPE MAGNETTE
1935
Yoshiko Komiya
15
Ichiro Tanaka(D)
RILEY
1938
Yuka Komatsu
17
Seiichi Nakamura(D)
MG TC
1946
Tomomi Nakamura
18
Yujin Yusa(D)
SIMCA 8 SPORT
1951
Naoko Yusa
19
Akitaka Yamaguchi(D)
FIAT STANGUELLINI 750SMM
1953
Toshiko Tsuchiya
20
Yasushi Takei(D)
FIAT FRUA COUPE
1953
Masako Takei
21
Takashi Arakawa(D)
TRIUMPH TR2
1954
Takashi Samukawa
22
Hajime Atari(D)
FIAT 1100 103TV
1954
Motohiro Atari
23
Masaki Shimizu(D)
PORSCHE 356 SPEEDSTER
1954
Fujio Yoshimura
24
Shinya Nakajima(D)
AC ACE
1955
Makiko Nakajima
25
Tatsuyuki Aoki(D)
AUSTIN HEALEY 100 BN1
1955
Syoko Aoki
26
Masaru Umeda(D)
FORD THUNDERBIRD
1955
Sayaka Yoshida
27
Mamoru Sasaki(D)
CHEVROLET BEL AIR 210
1955
Haruhi Sasaki
28
Yoshitaka Nishimura(D)
AC ACE
1955
Toshio Fukushima
29
Takamitsu Matoba(D)
PORSCHE 356 SPEEDSTER
1955
Masanobu Fujii
30
Hideyuki Fukuhara(D)
TRIUMPH TR2
1955
Atsushi Hasegawa
31
Eiji Shimada(D)
MERCEDES-BENZ 190SL
1955
Mitsuteru Tsukamoto
32
Kozo Araki(D)
MGA
1956
Shigenori Araki
33
Yukio Hara(D)
AUSTIN HEALEY 100BN2
1956
Ayako Hara
34
Ken Yokoyama(D)
AUSTIN HEALEY 100/4 BN2
1956
Tomoaki Hagino
35
Kimio Sato(D)
ALFA ROMEO GIULIETTA SPRINT VELOCE LIGHTWEIGHT
1956
Yukinobu Sato
36
Mitsugi Sekine(D)
MGA
1957
Chie Sekine
37
Kazuhisa Hashimoto(D)
DEVIN ALFA 750
1957
Yasue Onohara
38
Yasuyoshi Oda(D)
TRIUMPH TR3
1957
Masafumi Yamamoto
39
Tsuguo Shintani(D)
LOTUS SEVEN
1957
Sumiko Kokonno
40
Masayuki Kurashima(D)
PORSCHE 356A 1600
1957
Mihoko Kurashima
41
Yoshifumi Fukuda(D)
FIAT ABARTH 750GT ZAGATO
1958
Nobuyuki Baba
43
Nariaki Hatakeyama(D)
TRIUMPH TR3
1958
Saori Hatakeyama
44
Kenji Kajiwara(D)
MGA
1956
Koichiro Fukasawa
45
Kazuhiro Nagura(D)
ALFA ROMEO GIULIETTA SPIDER 750
1958
Masashi Tashiro
46
Noriko Mitamura(D)
ALFA ROMEO GIULIETTA SPIDER
1959
Toshihiko Mitamura
47
Minoru Miyashita(D)
PORSCHE 356B ROADSTER
1960
Kanako Yaguchi
48
Yasuo Yamasato(D)
TRIUMPH TR3A
1960
Yumiko Yamasato
49
Hiroyuki Iinuma(D)
ALFA ROMEO GIULIETTA SPRINT VELOCE
1959
Takashi Miyamoto
52
Tadanori Nagakubo(D)
PORSCHE 911S
1967
Aya Nagakubo
53
Hirokazu Ishiwata(D)
DATSUN FAIRLADY2000
1967
Emiko Ishiwata
54
Yumi Misaki(D)
TRIUMPH SPITFIRE
1968
Hiromi Saito
55
Ping-Yi Shih(D)
ALFA ROMEO 1300GT JUNIOR
1968
Chien-Hao Chen
56
Chien-Hung Lin(D)
PORSCHE 356 PreA
1953
Yu-Chieh Tseng
57
Kazuo Shibuya(D)
PORSCHE 912
1969
Hiroko Shibuya
58
Shigeru Hikino(D)
MAZDA COSMO SPORT
1969
Harue Tabata
59
Hiromichi Mukaiyama(D)
LOTUS ELAN SPRINT
1970
Hiroko Mukaiyama
60
Masahiro Yokota(D)
NISSAN FAIRLADY 240Z
1972
Etsuko Oki
61
Wataru Kaneda(D)
JAGUAR E-TYPE SERIES 3
1973
Naoshi Otake
62
Susumu Otomo(D)
PORSCHE 911S
1973
Yuko Otomo
63
Atsushi Fukuda(D)
FERRARI DINO 246GT
1973
Yohei Takemura
64
Takayuki Kimura(D)
VOLVO P1800ES
1973
Akio Abe
65
Hidetoshi Wada(D)
AC COBRA
1965
Masayuki Shiwa
66
Hirokazu Suzuki(D)
NISSAN FAIRLADY 240Z
1971
Ayaka Nemoto
67
Haruaki Kumagai(D)
TOYOTA CELICA
1973
Nobuyo Kumagai